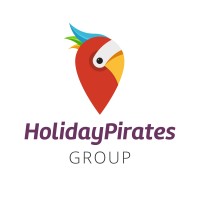 Senior Backend Engineer

at HolidayPirates
🇩🇪

Germany

›

Berlin
(Posted Apr 3 2022)
Please mention that you found the job at ClojureJobboard.com
Apply now!
About the company
HolidayPirates represents one of the fastest-growing online travel companies in Europe. Its unique concept of "best travel deals" rapidly gained popularity and since its inception HolidayPirates has become the preferred portal for millions of travellers. HolidayPirates has spread not only in Germany but also in Austria, France, Italy, Netherlands, Poland, Spain, Switzerland, the UK and the United States. The company currently employs around 120 crew members, 100 are based in Berlin Headquarters.
Even though we are facing the Corona pandemic at the moment, we strongly believe in travel as a desire of people to explore the world. That is why we go on surprising and delighting our audience with helpful and useful content. We are very much looking forward to welcome you on board and to succeed together in that!
Do they allow remote work?
Remote work is possible, see the description below for more information.
Job description
AHOY MATE!
You are passionate about technology, open-source and the web?
You are a backend web developer with experience in Clojure or is already learning it? You understand the benefits of functional programming and infrastructure as code?
Yo-ho-ho! Then you are the pirate we are looking for!
As a senior backend engineer at HolidayPirates you will be responsible for maintaining and creating new backend services and be able to take part and influence the new technical path we are going to take.
DUTIES ON DECK
Be part of the backend team and work on existing and new backend services.
Improve tech stack by analysing and adding different tools for solving problems with having the bigger picture in mind.
Take responsibility for the whole path of the software development journey from conceptualising to delivery and monitoring and maintenance.
YOUR TREASURE OF EXPERIENCE
You have 5+ years of experience in the industry, in which you have worked as a backend developer for at least 3 years
You have working experience with more than one backend programming language
You have working experience with Clojure, and if not, you have a high interest in it and you are already learning it.
Experience with Pub/Sub or event streaming services.
Experience with the AWS ecosystem and Terraform is a plus.
Pragmatism, sense of responsibility and a positive outlook towards life.
Good communication skills and proficiency in English
THE PIRATE SHIP OFFERS YOU
A unique and open company culture, where sharing ideas is our lifeblood
The possibility to play an essential part in the engine room of our pirate ship
The opportunity to impact our technical products
A super nice pirate ship anchored at WeWork in Berlin-Friedrichshain
Flexible working hours
Possibility to work remote(hybrid model)
A lovely Product & Technology department and inspiring mates across the whole crew
A MacBook for private and business use, including a very lovely remote IT support
Opportunity to join the company pension scheme
Legendary team and company events (as soon as Corona let us celebrate again)
IF YOU LIKE OUR OFFER...
...well, then it's time for you to get in touch! We are already super curious to learn more about you.
Please send us your updated CV. In addition, links to a Github profile or any open source projects that you have worked on would be nice to have.
What counts for us is that you fit into our pirate family and that you help to ensure the ship is rolling smoothly. We are a caring and diverse crew and we are looking forward to meeting diverse applicants during the recruiting process, for that reason we encourage all genders to apply for this role. To keep the focus on the interesting facts we appreciate application data without photos, information about marital status, pedigree or other for us irrelevant aspects.
One more thing before you click the button: Unlimited remote work possible, yay!! But: For the employment in the HolidayPirates GmbH you have to be registered in Germany with a German address.
Work like a captain, play like pirate!
Please mention that you found the job at ClojureJobboard.com
Apply now!